UX open
You are very welcome to UX open, an unconference about User Experience where the participants contributes and share knowledge and experiences. Last year's event saw 90 participants, 12 lighting talks and a lot of open space discussions. Read about it (in Swedish).
This year's theme is UX in an agile setting including everything that makes collaboration work in both the agile discovery phase and the agile delivery phase.
The event consists of short to-the-point presentations (known as lightning talks) and improvised discussions or happenings (known as open spaces) with the unconference participants. As a bonus, there's a possibility to arrange UX safaris to be carried out after the conference. All this to maximize the sharing.
And compared to last year, all talks will be in English. The language during the open sessions depends on the group composition, but English is required if a participant does not speak Swedish.
October 12 2013
Starting at 10 a.m. this October Saturday, we have the rest of the day full of great conversations. There will of course be a lunch break (lunch not included) and a fika break (very much included). We will be done with the more or less structured activities of the unconforence before 6 p.m. and great possibilities for continuing the discussions over a pint or a meal during the evening for those of us who just can't get enough.
Registration

Introduction




Do you find yourself struggling to explain the concept of UX for developers, executives and even visual designers? You know that an experience-focused team is a success factor and helping each team member understand WHY they are contributing can be a challenge. Lend me your ears and let me tell you the story about a glass of lemonade.

Let's face it – cats are probably the most selfish and self-absorbed creatures on the planet. Everything we'd hate in another human being, we love in our cats. So how have they succeeded in becoming one of our favorite pets? Whatever they're doing must be a hell of a user experience. In this talk I'll present some of the key things I've learned by doing a user experience evaluation of my cat.

Video brainstorming is a method that helps us explore users' needs and desires. Participants not only write or draw their ideas, they also act them out in front of a video camera. The goal is to create as many new ideas as possible. The use of video, combined with paper or cardboard mock-ups, encourages participants to actively experience the details of the interaction and to understand each idea from the perspective of the user.

Have you ever felt overwhelmed by the sheer amount of choices that exist on the web? What book to buy? What artists to listen to? What blog posts to read? Everyday we are faced with an overwhelming amount of decisions. This talk is about how we as UX designers can help bring order to this information chaos.

Both Service Design and UX Design are depended on the user in order to create customer experience. The big difference is that Service Design understands the service system irrespective of what channel the end customer chooses. This initially involves a voyage of discovery, to find the needs and driving forces of the parties involved. This presentation will define the difference between UX Design and Service Design and explaining what¹s Service Design is all about.

Ten commandments of digital design: help carve them in stone web. - Jonas Söderström

You want better digital services from your government, don't you? You don't want millions of your tax money wasted on poor web sites and useless systems, right? Well, YOU CAN HELP, by adding your best examples to the new ten principles of digital design, and by referring to them as a common ground whenever you do projects for the public sector. By the way, they work just fine for private sector projects, too.




Break




A primer on Agile UX and LeanUX and what this will change about traditional user experience design. The title of the talk is stolen from Ash Maurya.

By serving the developers the UX design they need - at the right moment - a small team can do wonders. This talk gives an example how to work truly agile and lean by giving the developer slimmed and focused UX design but also the importance of frequent deliveries and reviews. This "process" is based on a demo project where 4 touch screen UI:s, working on HW, were developed in 5 weeks.

Co-Creation is the newest way for Tieto to set-up Agile development by setting AND keeping a future service vision, business case and user in focus.

Working on an eCommerce project from design to debug I picked up a lot of things we did wrong when creating the wireframes. This is a quick run-down that not only makes it easier to create wireframes, but makes them easier to implement for the developers and keeps the website more consistent.

UX begins the minute a user comes in touch with your service. If you're in luck you will be in control of this first, lasting, impression. Onboarding means making sure that your potential user get that must have experience that makes them understand the value of your service. A carefully crafted onboarding process is crucial for turning a visitor into a real user. Here's how.

UX Safari presentations - Bontouch, ...

Short intro to UX safaris and the possibility to sign up for them including a very brief presentation of the different safaris.




Lunch - Not included. The restaurant next door will be open for us.




Don't you hate the feeling when you are well underway in a project and a certain hesitation appears - Are we really doing the right thing? Learn how to set up your agile design and development process so that you will continously learn more and more about the users and always work your way towards an increased certainty that you are spot on target with your solution.

3 reasons why Alpha (short and simple usability testing) have been successful for us.

I'll talk about how to create quick and lean personas and user journeys that you can use in any project.

This talk will be about going from one centralised UX team in Stockholm to many de-centralised cross-functional product development teams located in both Stockholm and Bangalore, India. And some experiences made along the road.

As long as you are not toiling by yourself, playing designer, developer, sales and CEO all at once, you need to worry about scaling design. Creating a cohesive and consistent product in an agile group can be very hard. We at Spotify know this fist hand. We have hundreds of designers and engineers working on agile teams each making smart but often disconnected decisions about their feature every day. I'd like to share what we are doing to help the many disparate teams keep Spotify an amazing cohesive experience.




Coffee break





Break




Open space 2 - Second session




Break




Open space 3 - Third session




Evaluation of the day and wrapping up




Sharing and caring continue on a pub or restaurant nearby
The schedule below may be changed before the event. Be sure to check in here regularly. Lightning talk times are approximate.
Meeting room, Stockholm, Sweden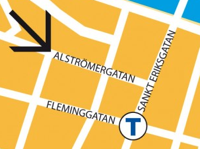 In premises where there have been both manufacturing of machine guns as well as tobacco machines, the conference venue Meeting Room is situated. You find it on Alströmergatan 20 very close to Fridhemsplan on Kungsholmen in beautiful Stockholm.
Lightning talks
A lightning talk is a presentation that is strongly timeboxed to (in our case) 10 minutes. The subject gets very focused and serves mostly as an inspiration. Topics range from short how-to's to success stories. When the time is up, the speaker will be interrupted by the bell and the audience will applause. Then it is time for the next speaker. Questions are usually dealt with as proposals to the following open spaces. The lightning talk can be an ordinary presentation or why not a short game with some participation from the audience. You submit your talk for UX open beforehand and prepare your talk well in time for the event.
Everyone has something to share that would benefit others, and everyone can give a talk. It is better if it is short and only focuses on one thing, like Leah Buley's 18 Months Plan for World Domination, so see the 10 minute timebox as an upper limit.
Here are some links that will help you hold a lightning talk:
Open spaces
An open space session can be prepared before the conference but can also just be a question to the other participants. There will be a subject presentation round before the open space sessions start. The typical session is carried out as a discussion in a circle with a timebox of 40 minutes. There are some short principles and a law to make the open space sessions work.
Principles
Whoever comes is the right people
This principle reminds people in the small groups that getting something done is not a matter of having 100,000 people and the chairman of the board. The fundamental requirement is people who care to do something. And by showing up, that essential care is demonstrated.
Whatever happens is the only thing that could have
This principle keeps people focused on the here and now, and eliminates all of the could-have-beens, should-have-beens or might-have-beens. What is, is the only thing there is at the moment.
Whenever it starts is the right time
This principle alerts people to the fact that inspired performance and genuine creativity rarely, if ever, pay attention to the clock. They happen (or not) when they happen.
When it's over it's over
Don't waste time. Do what you have to do, and when it's done, move on to something more useful.
Law of two feet
If at any time you find yourself in any situation where you are neither learning nor contributing – use you two feet and move to some other session more to your liking. Such a place might be another group, or even outside in the sunshine. No matter what, don't sit there feeling miserable.
UX Safari
The reason for a UX Safari is to go out and explore the wild world (of different companies) to see how people work with User Experience. A UX Safari is a very relaxed session where a small group meets to looks at sketches and/or processes either just to learn or to also give feedback. These Safaris will take place in the days and weeks after the unconference event.
Send an e-mail to info@uxopen.se to express your interest in being a UX Safari guide and there will be lists on the conference where potential travelers can sign up.
Register
This unconference is nothing without you! Buy your ticket through EventBrite below.
Submit a lighting talk
Of course you want to enlighten us with a 10-minute talk about your best ideas on how to incorporate ux in an agile setting, how to collaborate in the cross-functional team around product requirements or design, how to ensure that UX strategy can lead the way to a great product, or something similar. Please submit your talk below. You may submit several alternatives, one at a time.
This year's theme is UX in an agile setting including everything that makes collaboration work in both the agile discovery phase and the agile delivery phase.
We have all the lightning talks that we have space for this year, check out the schedule above
Contact
Follow @UXopen for information before, during and after the conference.
The UX open concept was initiated by Martin Christensen, User Experience Designer with a strong urge to share.